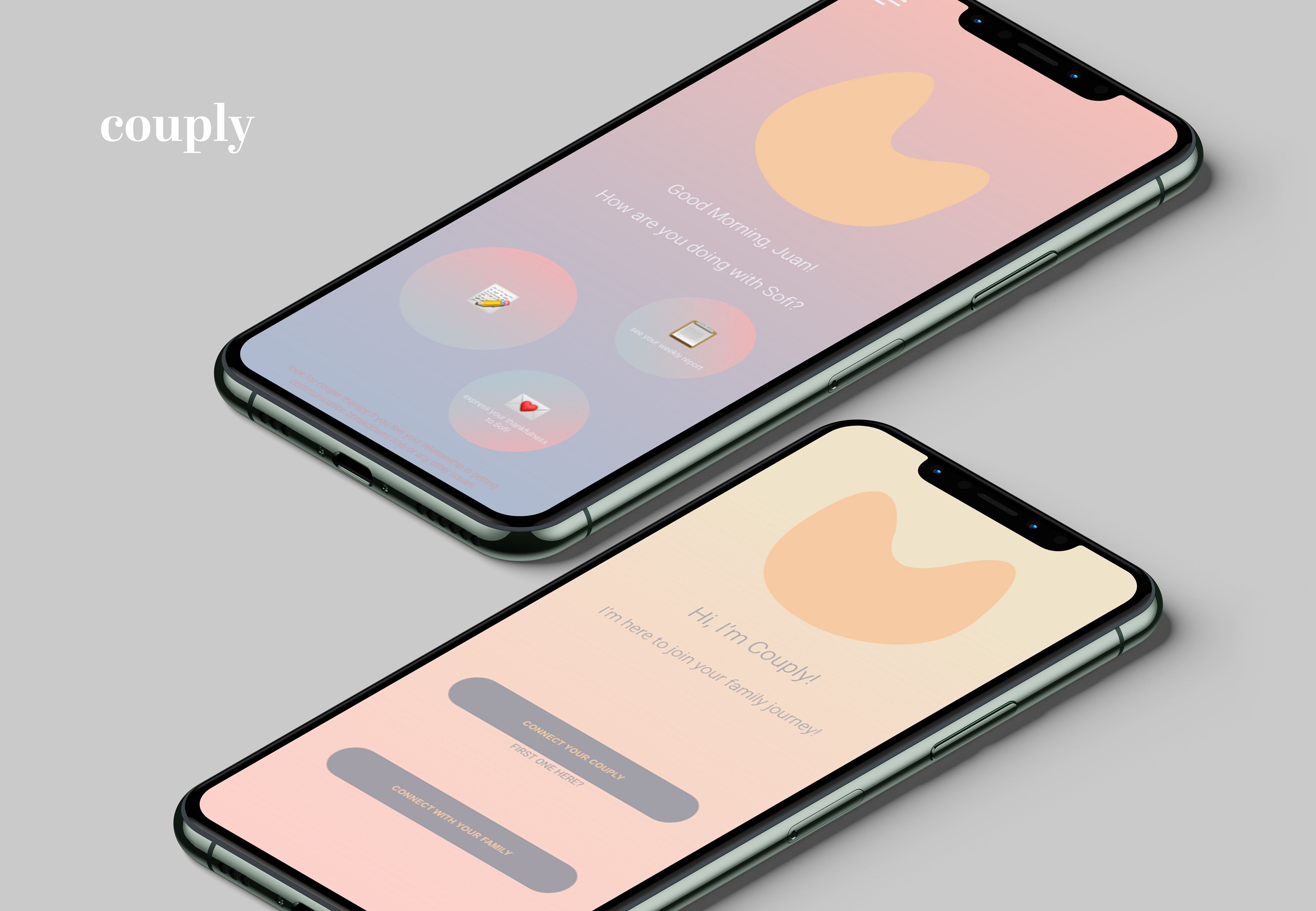 Couply is my senior capstone project. And it's here to help those parents who are struggling with their life after childbirth and create an equity parenting experience for both parents.  
Roles:

design research, UIUX design
Tools:

Adobe Illustrator, Adobe XD​​​​​​​
In China, "widowed parenting" is a buzzword used by Chinese mothers. But contrary to what you might think, this term refers to families in which one parent bears more responsibility for raising children than the other. Even in today's modern society, women usually tend to be the one who takes care of their kid at the early stage, both parents face the economic and social stress when they have to balance their family and work after childbirth. Couply is here to help those parents who are struggling with their life after childbirth and create an equity parenting experience for both parents. 
How we can help new-parents to learn new ways of communicating with each other?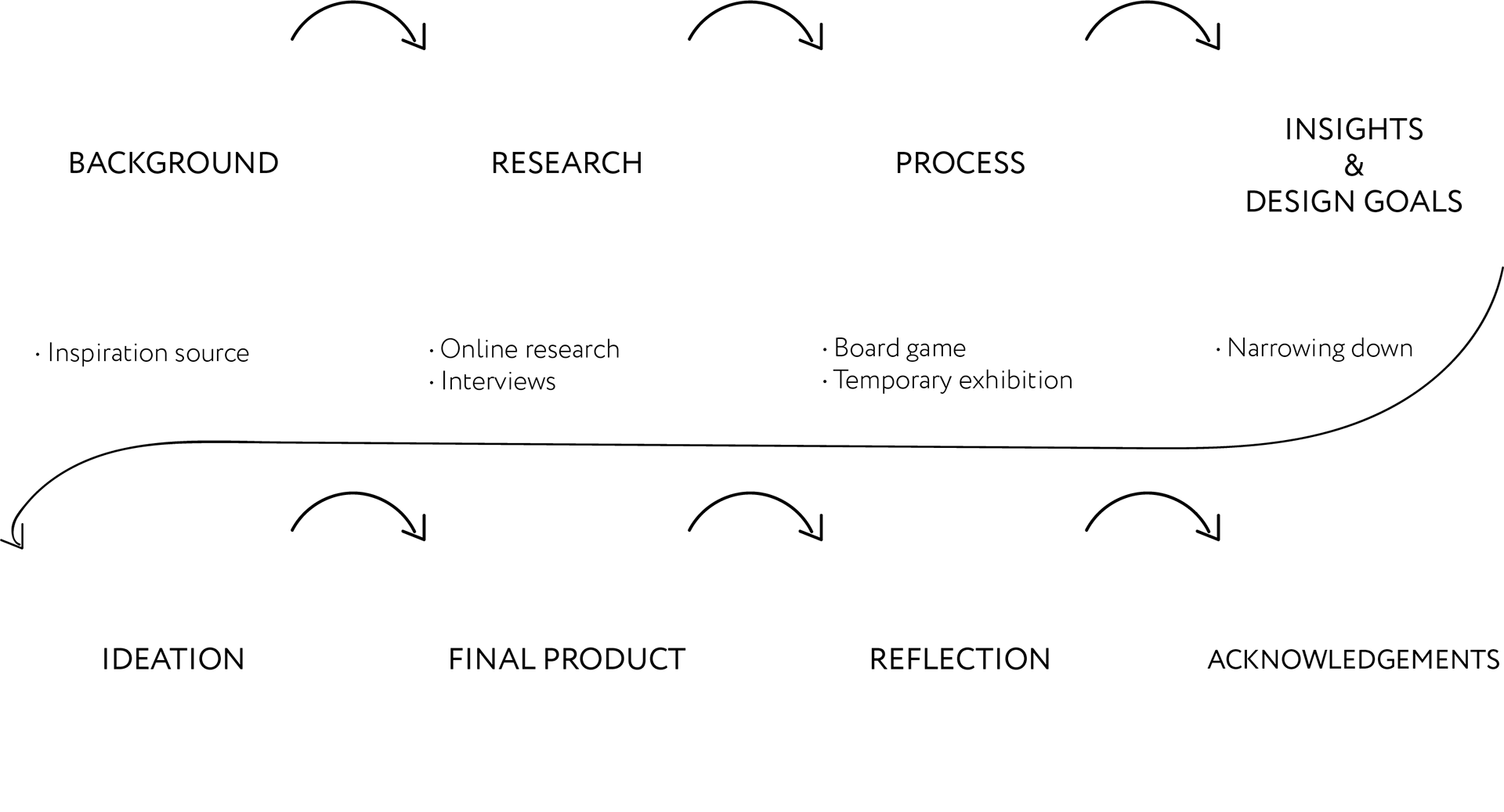 My cousin, Anita, who is a brave woman with two beautiful children, inspired me to work on this topic for my capstone project. I spent my last summer helping her while she was having her second baby in California. During that time, we talked a lot about her wellness during this period of transition from an individual to a mother who has a child to look after.

Being a childless individual, it was hard for me to fully understand motherhood. I'm very grateful for all the supports that Anita and her friends gave me along the way. Also thank to all who gave me feedback during this project.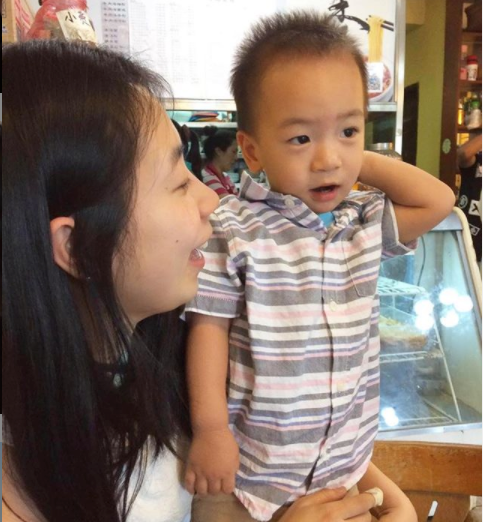 Online Research: Literature Review + TED Talks
The three literature resources state about women's wellness before or/and after they give birth. Each of the sources shows enough scientific research behind each statement made in the book which makes the findings more reliable. But many topics are covered in those sources which I think in the future after I decide what to design, I'll have to go back and find other sources with even more detailed information.
Other two TED Talks by Tanika Dillard and Cassandra Blomberg talked about
the silence of pregnancy loss
. They both had several pregnancy losses before and now they have decided to break the silence of talking the topic in society. I never thought about some mother could have suffered pregnancy loss but not even have the chance to find somebody to talk about it other than her partner, who also grieved.
Miscarriages are unpredictable and happen to 25% to even 40% of pregnancies. A pregnancy loss could cause both a huge physical and psychological impact on the couple.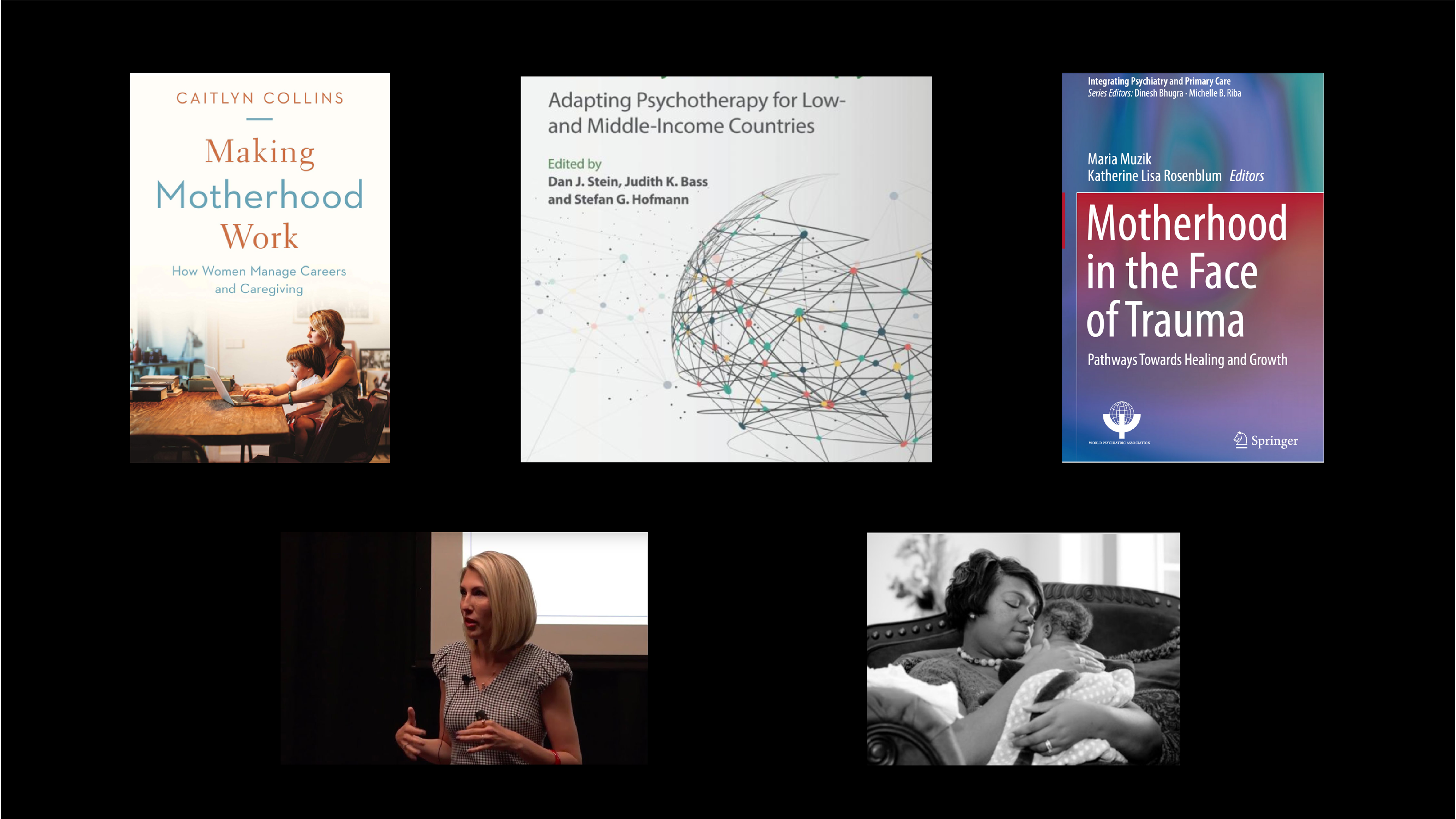 Interview: 
a psychiatrist specialized in women's metal health, Dr. Lanza
"The lack of support by the partner is considered as one of the risk factor for the postpartum depression. 
By having a new baby, is a big shift from a living of two to three which the third one is fully dependent on the parents. And the parents, mostly the mom has to be fully dedicated to the baby. Of course, dads can step in for changing the diapers or cleaning. But
there is a less physical availability (between the couple) that was before so the couple need to learn again in new ways of communicating each other."
Interview:
a mother of two, Anita Huang
Anita is a mother of two beautiful children. She is from China and being raised in Argentina. She had her first baby boy in Dallas, TX, in 2016; and recently had a baby girl in San Jose, CA, on August 2019. During the interview she mentioned that
giving birth to a child was challenging but maintaining a satisfied marriage after childbirth was more a life changing experience. 
Experimenting with provocation:
Board Game
The provocation project is focusing on the pregnancy process where the percentage of pregnancy loss is also included to be part of the board game.
The goal is to provoke a conversation on pregnancy loss through a social activity to break the social taboo on talking about it. 
The game has a spiral form to create an actual 'growing' feeling of the baby. Some informations are provided to educate some basic knowledge about pregnancy for the players.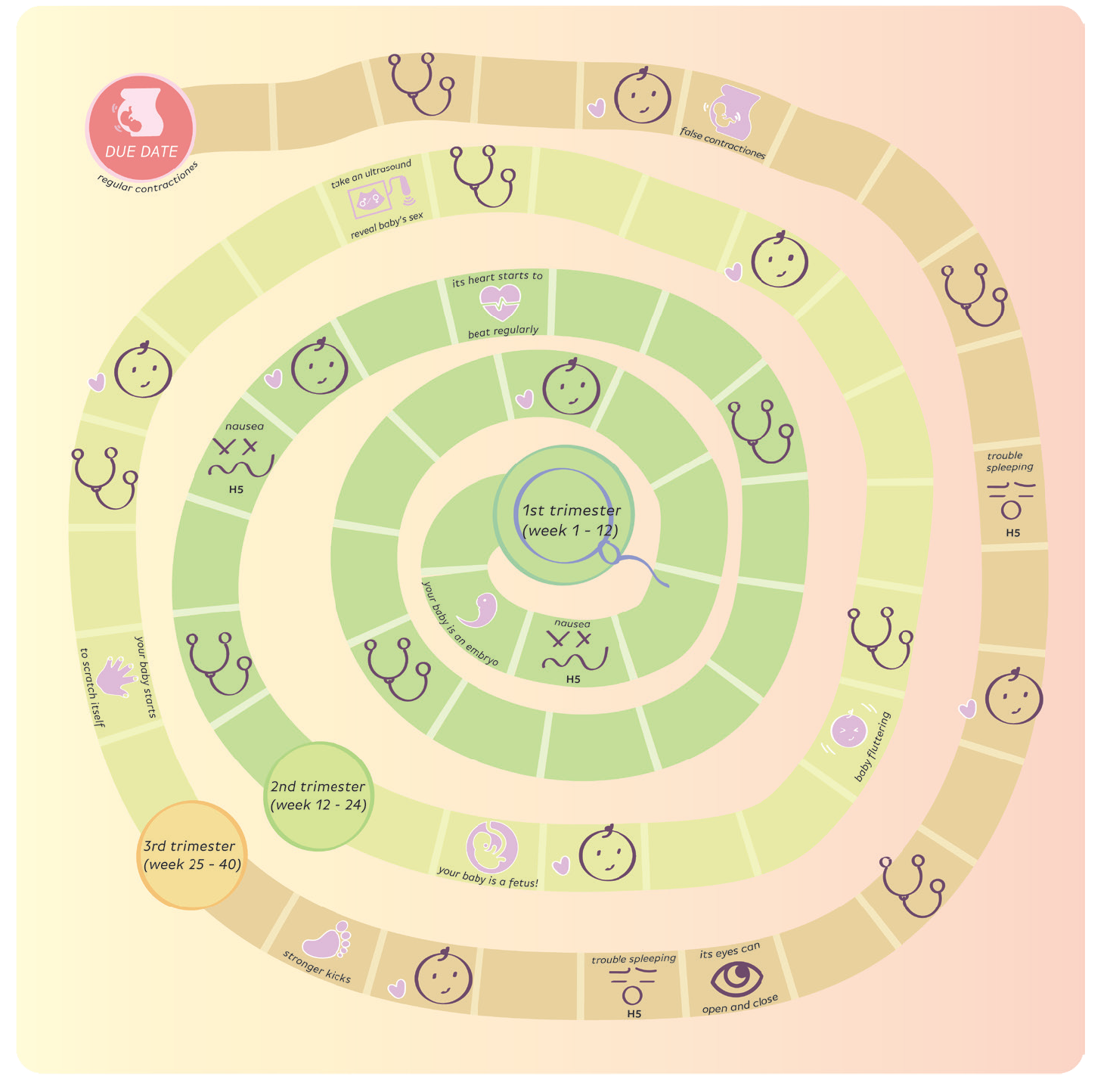 Experimenting with empathy:
Temporary Exhibition
After the interviews, I noticed how mothers have much more responsibility than father when it comes to childcare. 
The purpose of this project is to provoke people to share their intimate feelings within a public space. In this situation
, I'm using food as a tool or ice breaker for people to talk about their personal experiences with their moms. 
In my case, I barely talk about my mom to others or even my friends. But many details from my daily life reminds me of her. It ranges from something that my mom would say to the soup that my mom makes me whenever I got sick.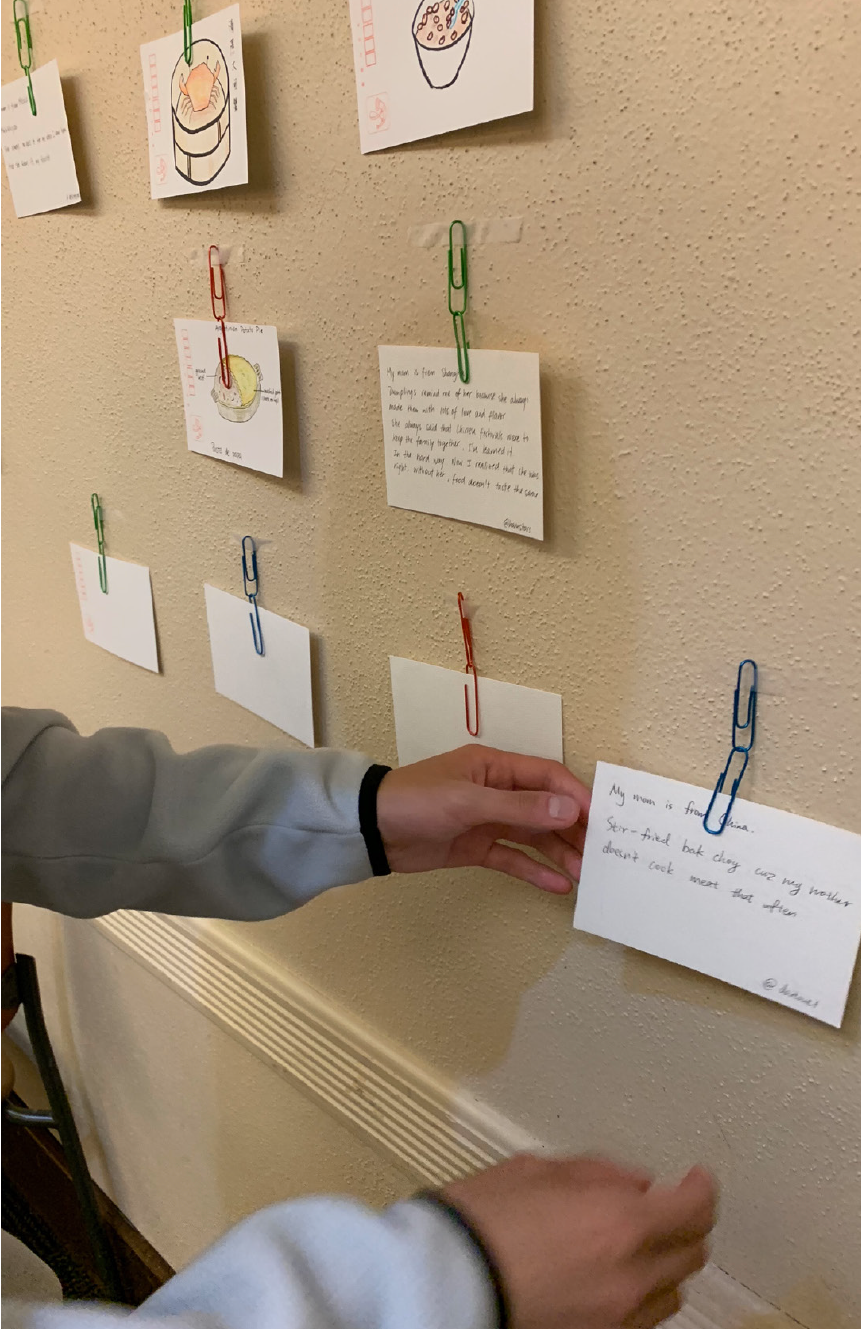 4. Insights and Design Goal
After the research and process I did. I organized the concepts and insights on post-it notes to give me a cleared idea of which problem I want to focus more.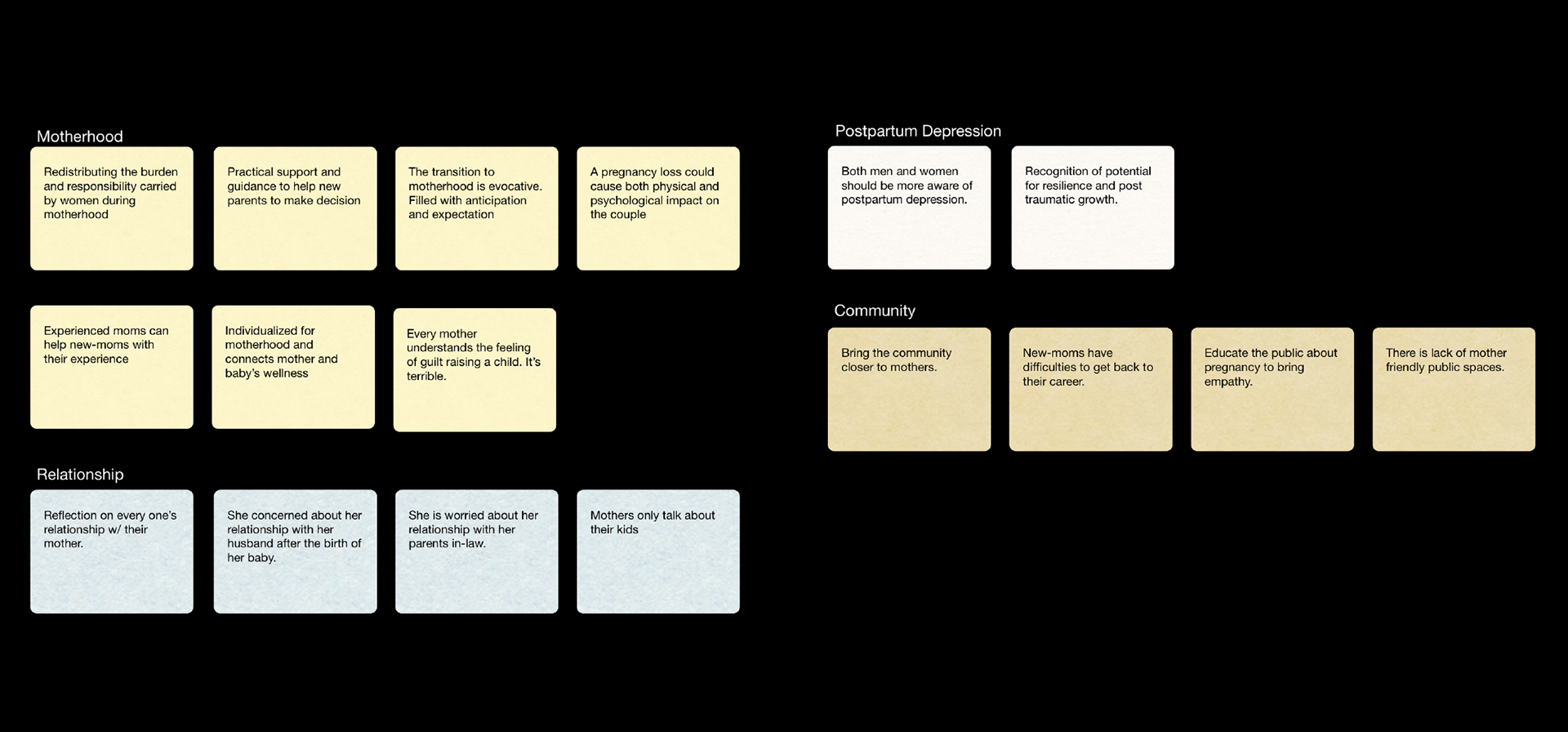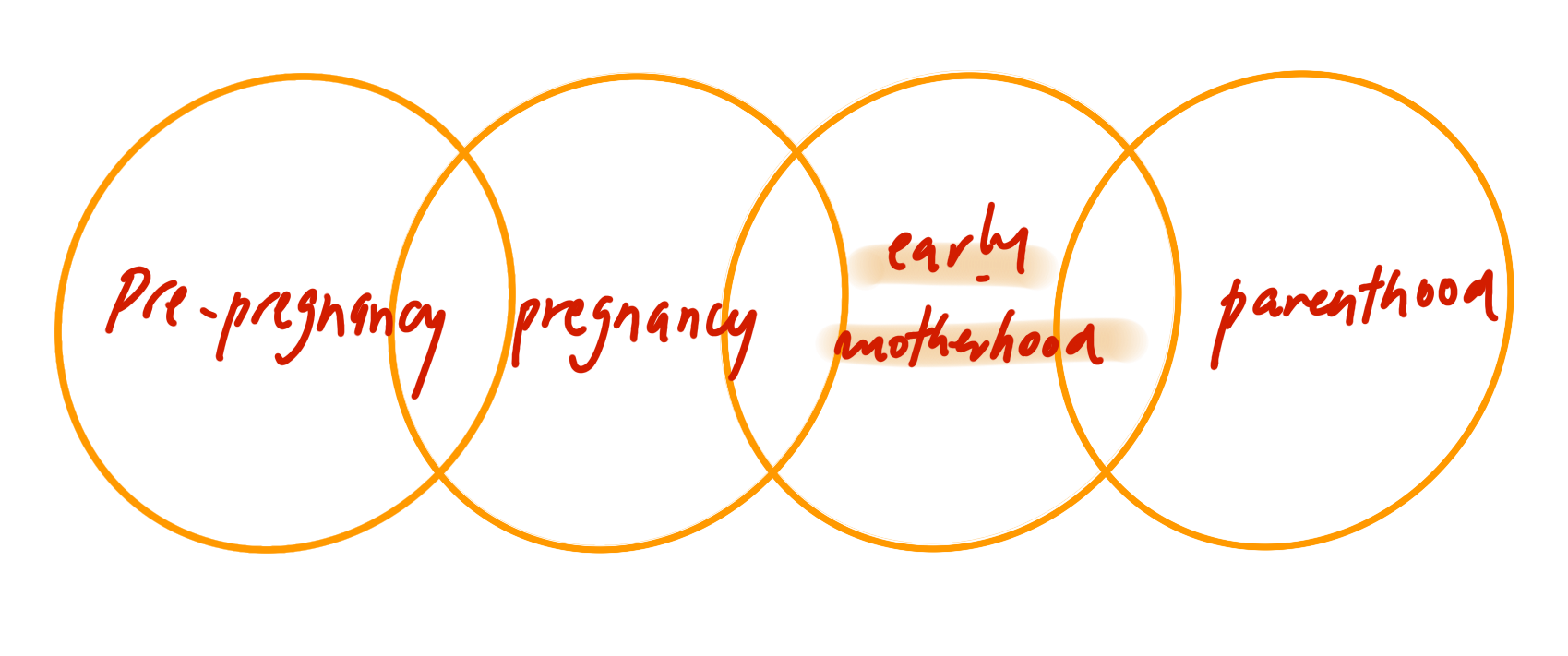 Finally, I decided to work on  the early-motherhood because I found out that the period right after a child is born, there is a huge change that both parents should be adapting to.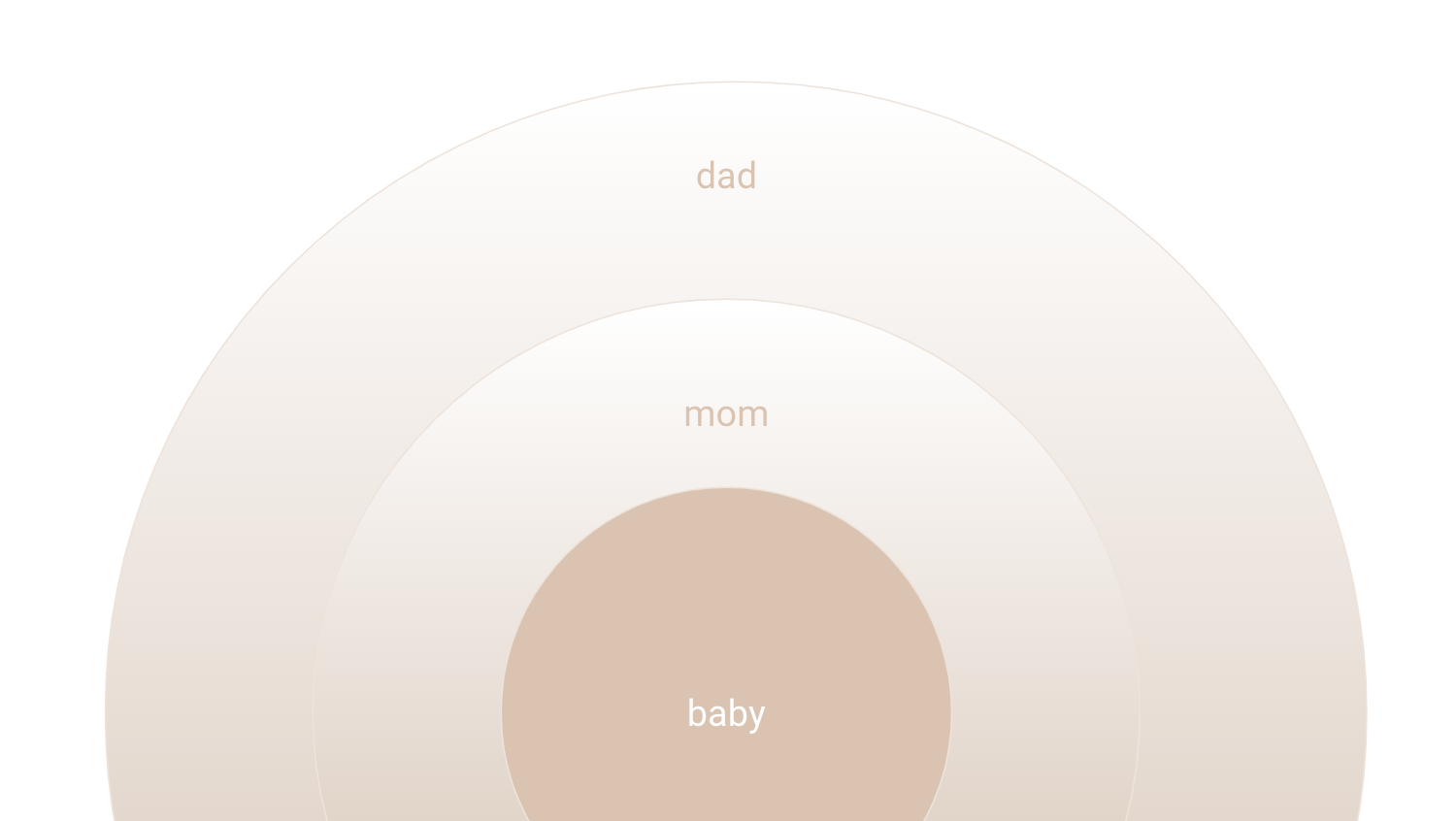 "There are many factors that can affect mother mental wellness during their reproductive cycle. Mothers' relationship with their partner is one of them."
── Dr. Lanza
How we can help new-parents to learn new ways of communicating with each other?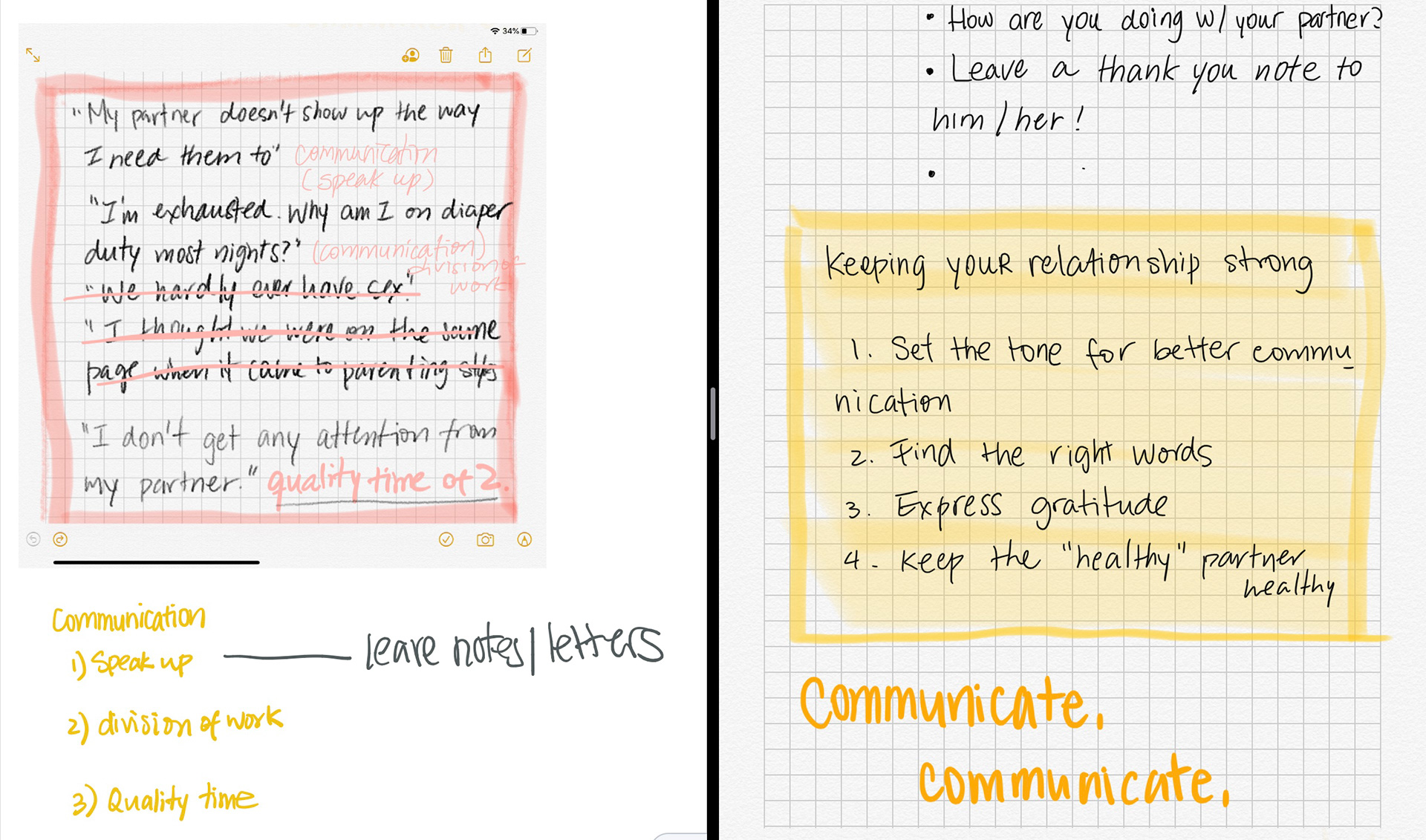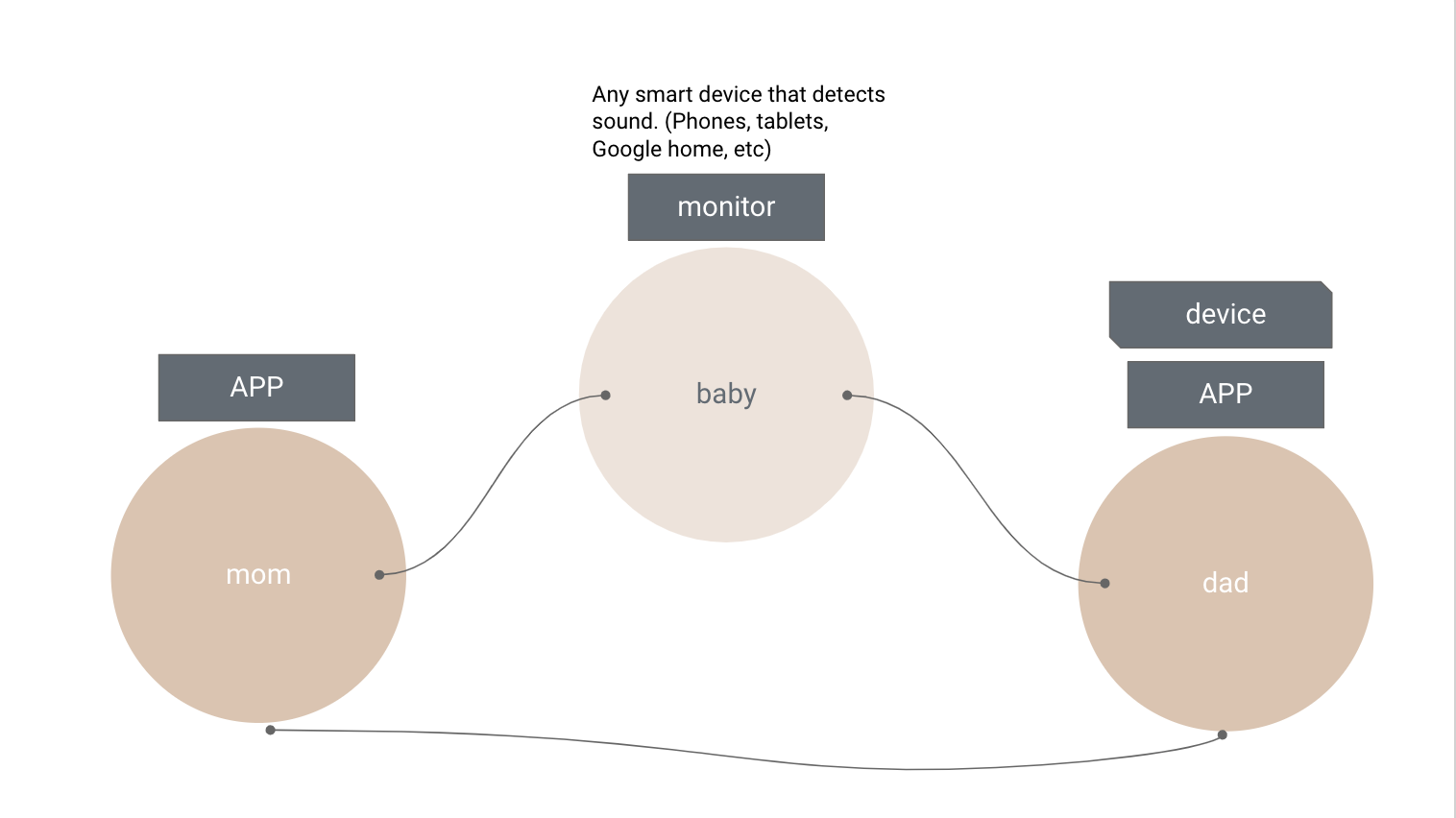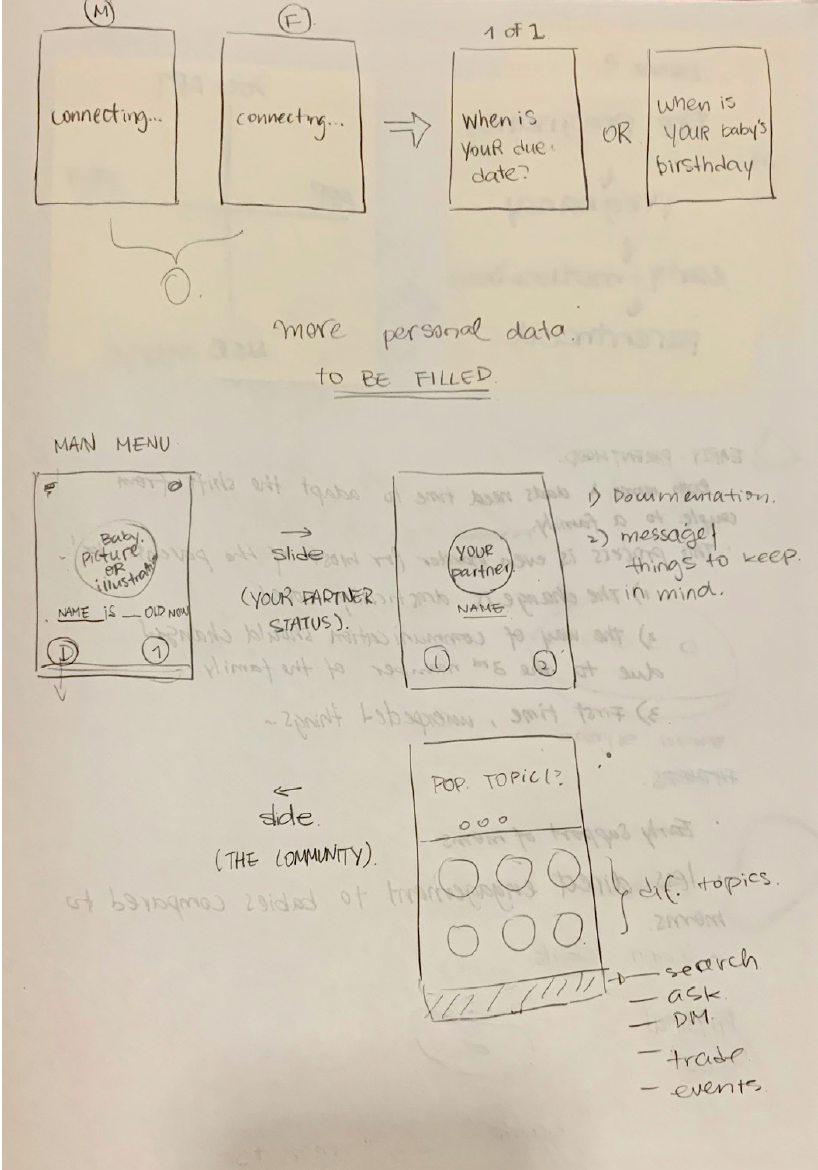 I chose to work on an APP because I believed its the most accesible and efficient for both parents. These are the first sketches I did for it. 
Couply is intend to help new-parents by creating a new platform of communication for them. It consists of two parts: a mobile APP and a small artifact. The artifact has an organic shape and its suppose to imitate a newborn and it's supposed to be used for the one who is not at home with the baby. What it does is to reflect the actions of the newborn detected by the monitor into a different colors of light. 
Below are the main features of the APP.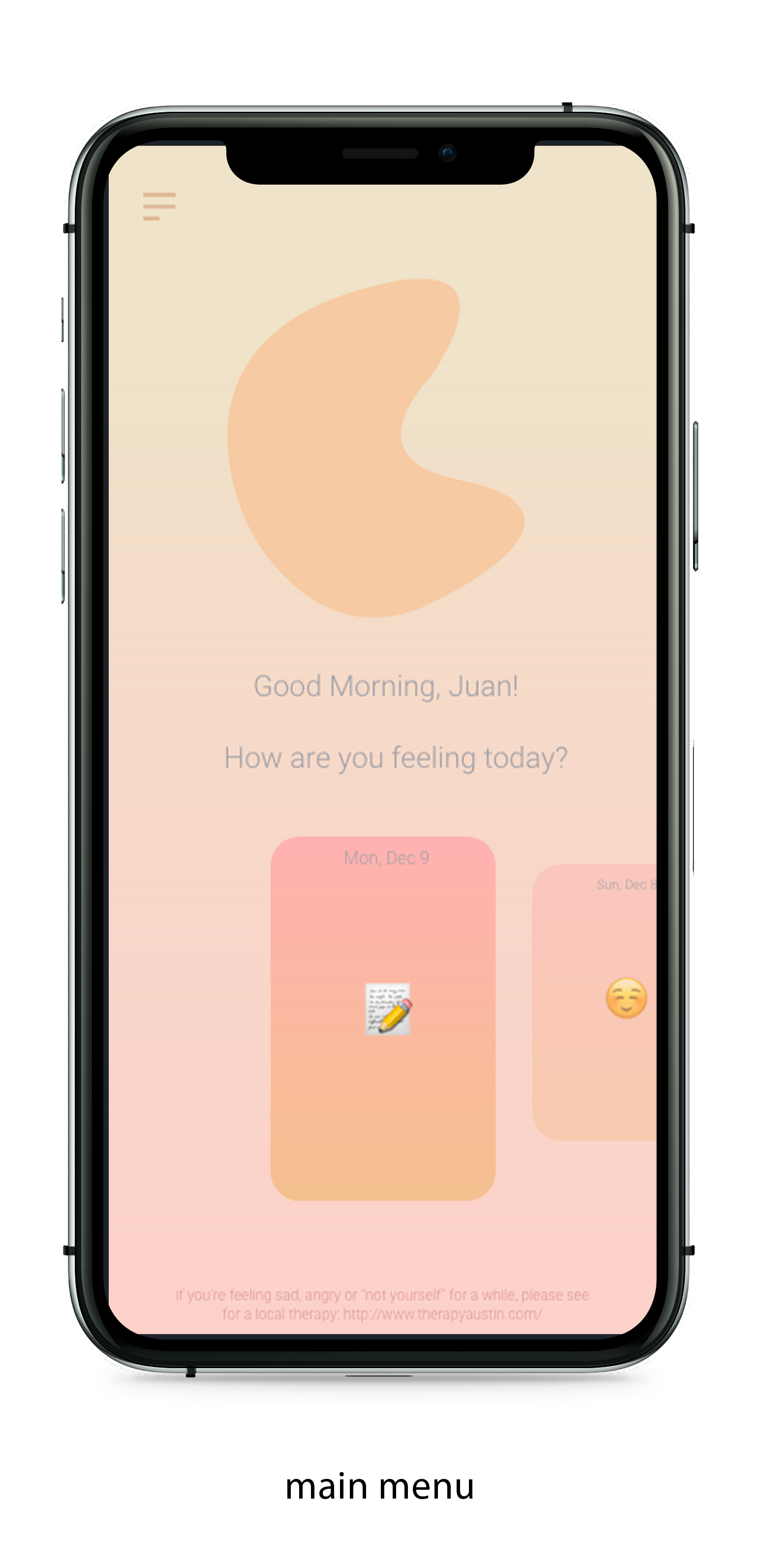 The main menu of Couply is first to check user's personal status. This feature is meant to focus first in one's own goodness in order to help their partner. 
2. Now check how is your partner doing
When you're done with your self-care, you can swipe left and find how is your partner feeling about your connection. There is the option of sending a thanks note to express yourself.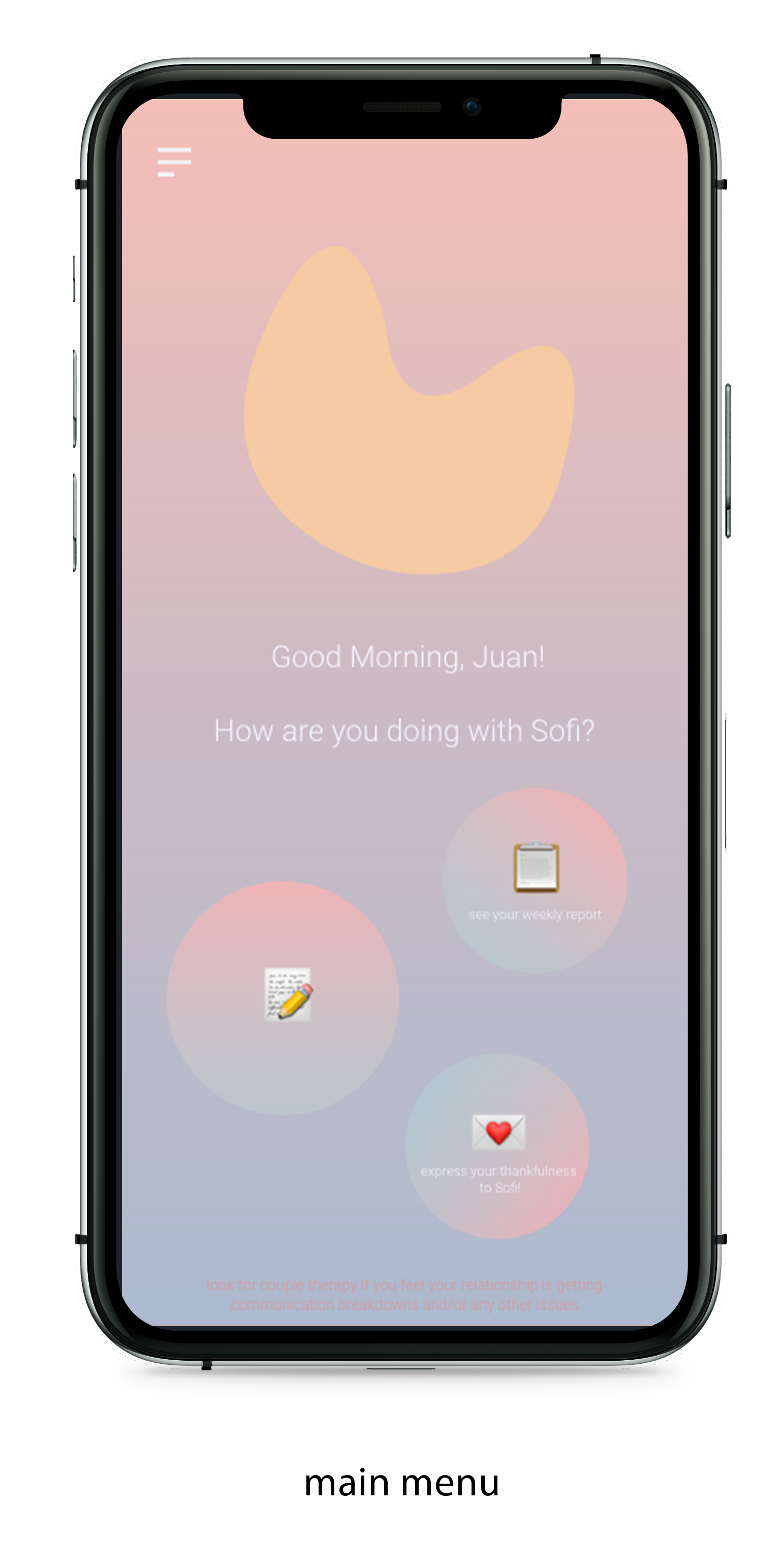 3. Two different experiences to reconnect with your baby (working with the product and only for the one who is not at home with the baby)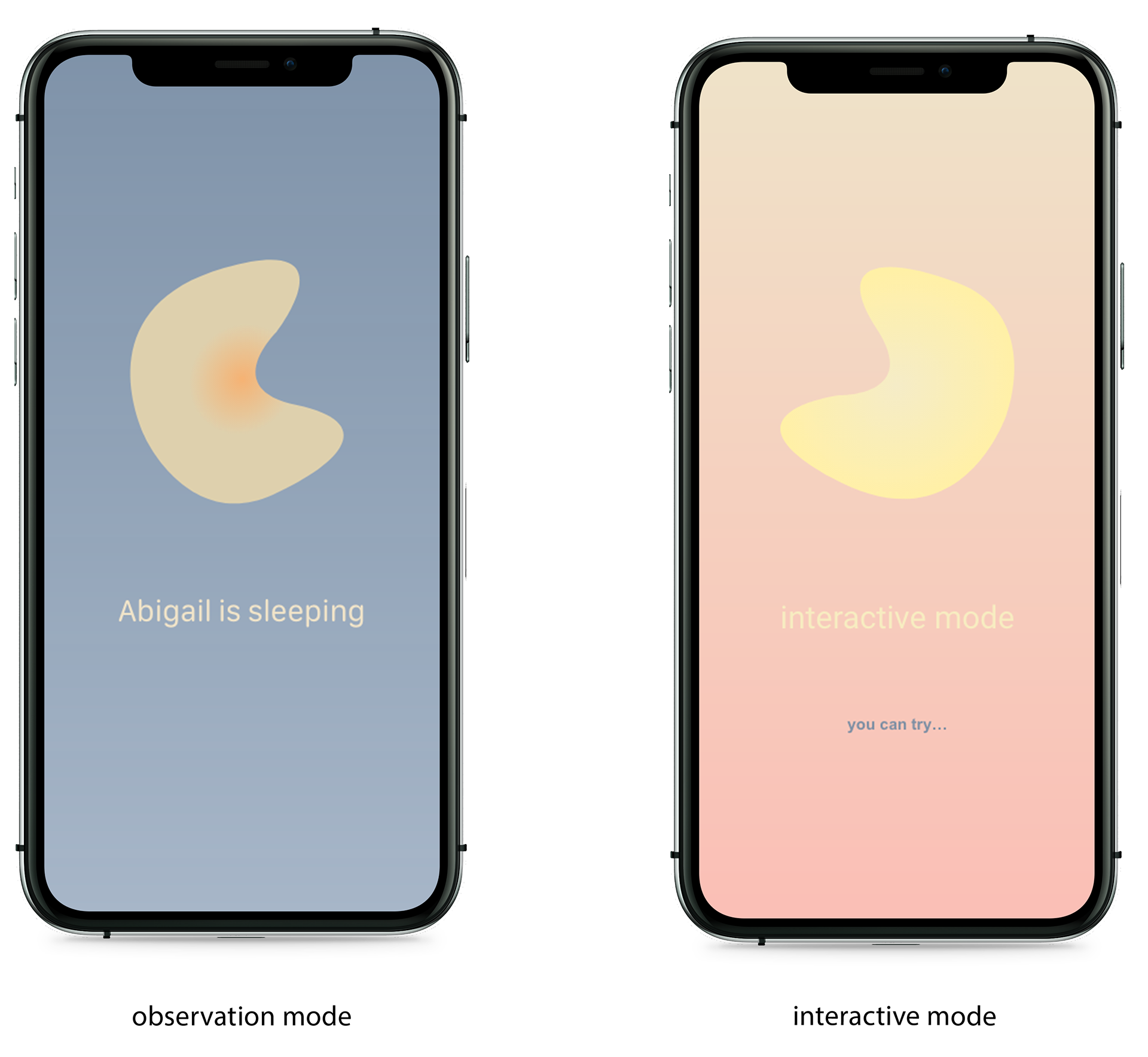 The existence of the observation mode is to have the artifact diffusing different lightings for the user to be aware of her/his baby's current action without aggressively interrupt her/his workflow at the workspace.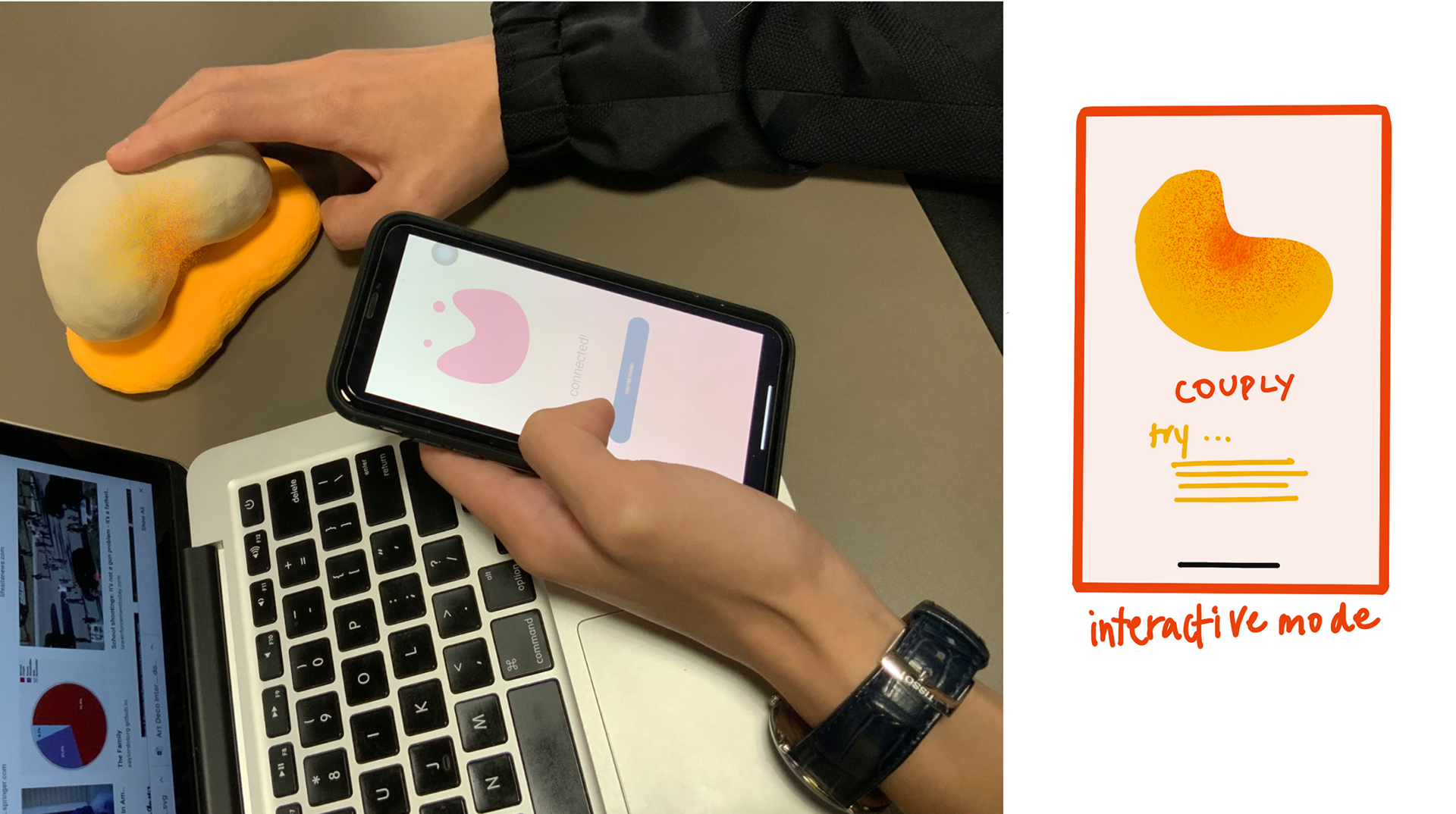 The interactive mode works differently. The APP will be pushing notifications to the users whenever it receives different negative mood from the baby. Although the user can not having a direct interaction with the baby, she/he will have to interact with the artifact in order to calm it. Just like a real one! 
Try Couply yourself right now!  →
Finding and focusing on one problem was definitely a challenge for me. If I had an opportunity, I would like to focus on the issue of the social taboo on pregnancy loss. I changed my design problem at the last minute for it to have a wider range of users but this made me have more decisions to make during the design process.  

First of all, I am extremely thankful that Dr. Teresa Lanza di Scalea was willing to reschedule our interview meeting several times because of our schedule conflict. Then I want to thank my cousin, Anita, she gave me a lot of inspiration along with this project. 

This is project is part of my contribution to the capstone exhibition for UT BFA Design 2020. Unfortunately we were unable to showcase our works in a physical exhibition due to COVID-19.